Company introduction:
Boonai Lift Equipment Co. Ltd as a modern manufacturing enterprise is specialized in aerial work
platform, providing package service for design, production, sales and after-sales.
There is an experienced team that takes care of every process for design, production and quality
control and dedicated to provents with excellent work.
With business philosophy of "Quality First, Client Oriented", we are striving for building a reputable
brand of Boonai by following the steps of the giants for the innovation of products and the
improvement of process and pursuing the perfection on every detail.
Main products are as follows: masts aerial work platform, scissor lift, fixed lift table, car lift and
material picker as well as electrical aerial work platform, with a wide application for the fields as
machinery, military, aviation and logistics etc.
Product introduction:
Made of wide section manganese steel providing more stability when lifting Inching control for lifting and lowering, ground / platform control mode could be switched. Control voltage: DC 24V Equipped emergency lowering device, enable safe lowering when power off Double contactors and double limit switches are provided In chassis is slide-out engine tray, convenient for maintenance Forklift pockets are made for transportation.
Product brand :Boonai
Mobile Scissor Lift (upgraded) Max platform height 10(m)
Apply to

Workshop Crane, Shipboard Crane, Warehouse Crane, Building Crane
| | | | | | | |
| --- | --- | --- | --- | --- | --- | --- |
| Model | SJY0.45-5 | SJY0.45-6A | SJY0.45-6B | SJY0.45-8 | SJY0.45-10 | SJY0.45-12 |
| Max platform height (mm) | 4900 | 5900 | 6000 | 8000 | 10000 | 11800 |
| Min platform height (mm) | 900 | 980 | 1080 | 1200 | 1360 | 1480 |
| Platform size (mm) | 1450*600 | 1700*750 | 2300*800 | 2300*800 | 2300*1120 | 2300*1120 |
| Rated load (kg) | 450 | 450 | 450 | 450 | 450 | 450 |
| Lifting time (s) | 50 | 60 | 70 | 90 | 100 | 110 |
| Voltage (v/hz) | AC380/50 | AC380/50 | AC380/50 | AC380/50 | AC380/50 | AC380/50 |
| Motor Power (kw) | 1.1 | 1.5 | 1.5 | 1.5 | 2.2 | 2.2 |
| Overall length (mm) | 1500 | 1900 | 2550 | 2550 | 2550 | 2550 |
| Overall width (mm) | 750 | 900 | 1050 | 1050 | 1400 | 1400 |
| Overall height (rails up) (mm) | 2080 | 2160 | 2260 | 2380 | 2540 | 2660 |
| (rails down) (mm) | 1540(folded) | 1620(folded) | 1260(insert) | 1380(insert) | 1540(insert) | 1660(insert) |
| Extended outrigger size (mm) | 1400*1400 | 1650*1650 | 1800*2270 | 1800*2270 | 2250*2270 | 2250*2270 |
| Tire (Ø) | 250 | 250 | 400-8 | 400-8 | 500-8 | 500-8 |
| Overall weight (kg) | 450 | 650 | 1200 | 1350 | 1700 | 1850 |
Advantages:Extension Platform,Slide-out Engine Tray
Level,Electric Control Box
Standard Configuration: Optional Configuration:
1,Ac 380V 1,AC 220V,DC(for max 12m platform)
2,Emergency lowering valve 2,AC/DC ,manual hydraulic pump
3,Leveling device with supporting screw 3,Italian hydraulic system
4,Waterproof electric box 4,Explosion proof electric control system
5,Emergency stop button 5,Rubber solid tire ,Extension platform,Electric moving device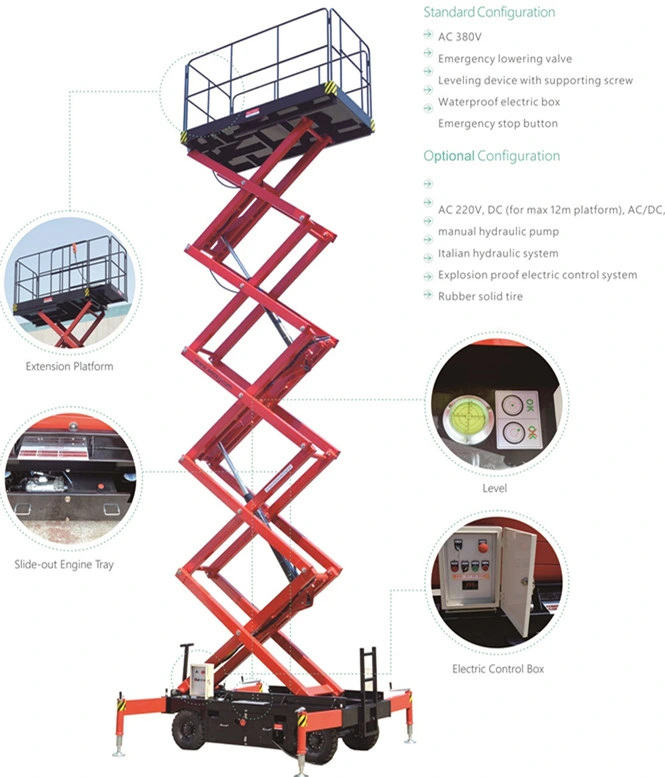 Skylor
Boonai(Suzhou)Lift Equipment Co.Ltd
Cell phone:+86 18861630924
Tel:0512 65382883 Fax:0512 65382264
boonailift.en.made-in-china.com