Indoor Sport Electronic Darts Electronic Dartboard Mini Arcade Machine For Coin Operated




Features:
1. Network version, playing against friends, strangers and top masters from all over the world.
2. 7-inch high-definition LCD screen, automatic scoring, data analysis, game guidance, etc. displayed on high-definition large screens, especially immersive screens and record displays, coupled with exciting sound effects, bring completely different darts game experience (1. With traditional household darts machine, you need to connect your mobile phone to the machine via Bluetooth. A sudden phone call or SMS will interrupt the game. 2. The mobile phone gets heated-up after a long time, which will affect the service life of the mobile phone.)
3. All-metal luxury buttons, touch sensitive, convenient and practical
4. Blue high-grade metal power switch.
5. High quality Bluetooth speaker
6. 12-volt mobile power interface.
7. The dartboard is made of a special high-tech material. It has high sensitivity, without deformation or fade, and we provide 3 years warranty to the dartboard.
8. Moisture-proof, rust-proof metal bright paint cover.
9. External USB interface at the top, which can be insert LED lights. (1. Traditional Household Edition darts do not have lights and need to be equipped with a headlight separately, which is costly and troublesome for decoration)
10. External projector or large display generates better visual effects.
11. "Off target detector", darts off the dartboard can be detected as 0 point
Product Detailed Information:
| | | | |
| --- | --- | --- | --- |
| Item | Indoor Sport Electronic Darts Electronic Dartboard Mini Arcade Machine For Coin Operated | Brand | EPARK |
| Place of Origin | Guangzhou, China | Size | 59*5*71 CM |
| Weight | 60KG | Voltage | 220V |
| MOQ | 1 Set | Power | 20W |
| Player | 1 player | Warranty | 1 year |
How to play:
It's very easy to coin operated ,don't use electronic energy and coins.

Images: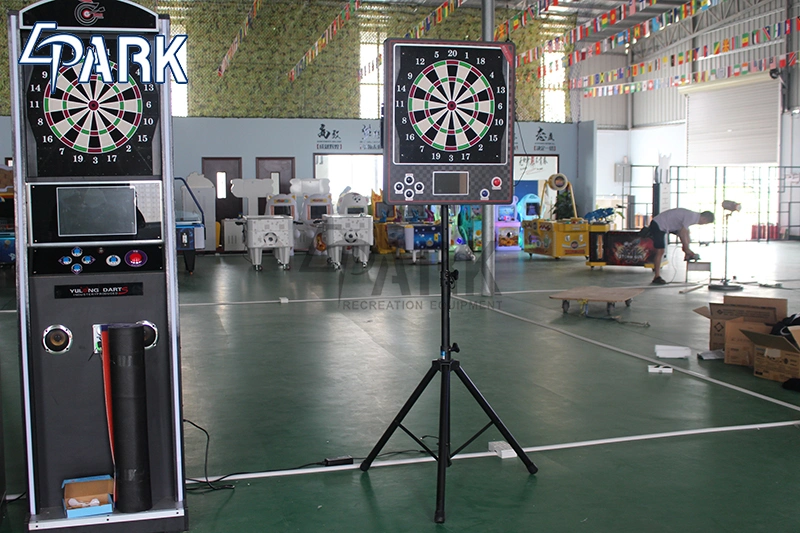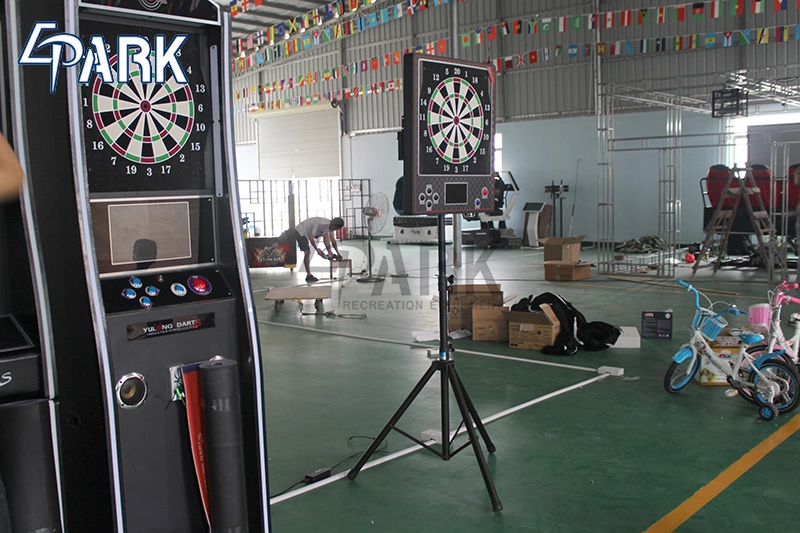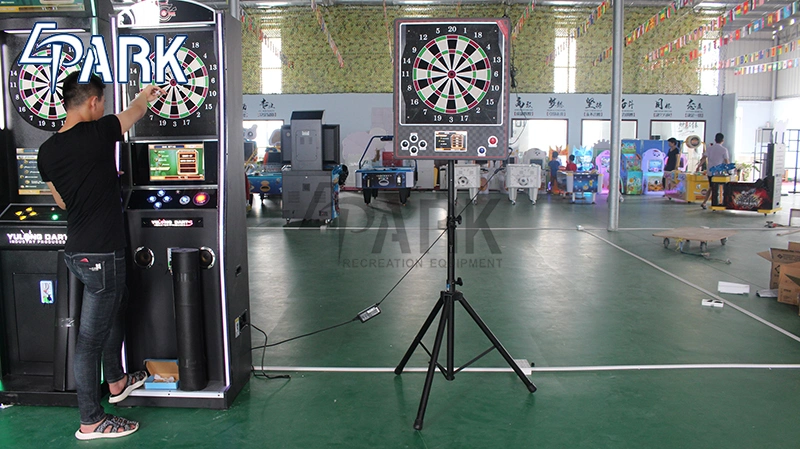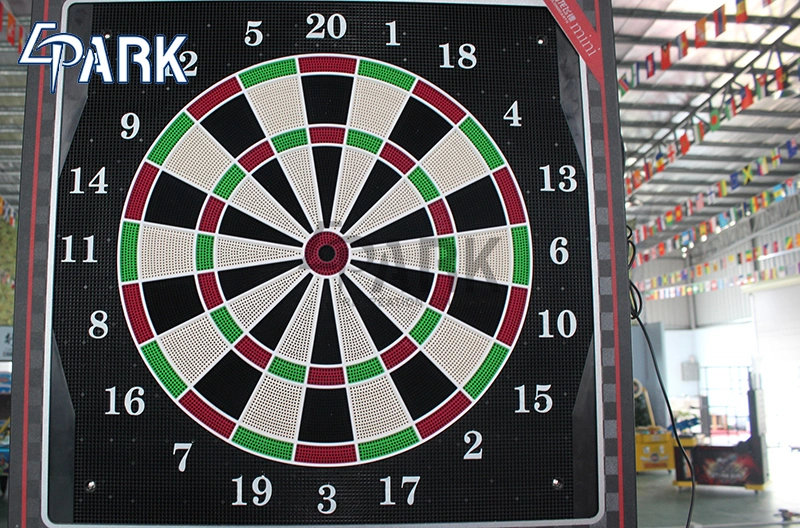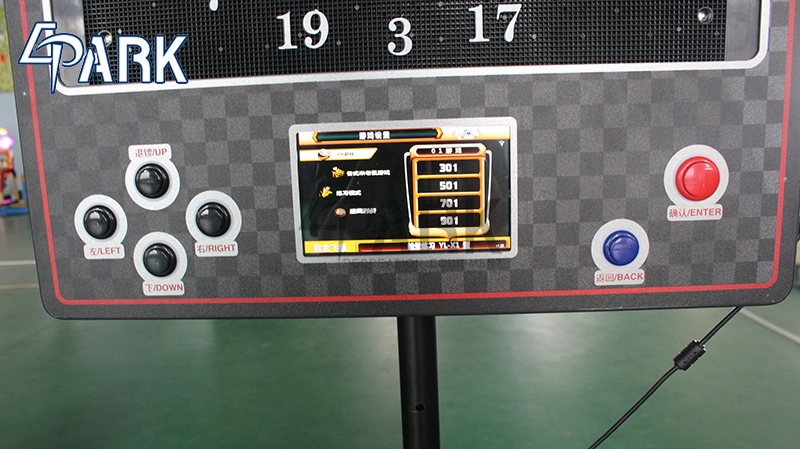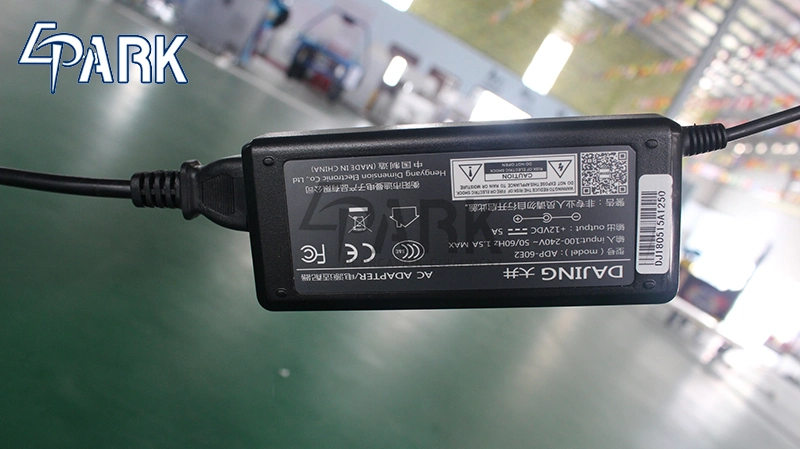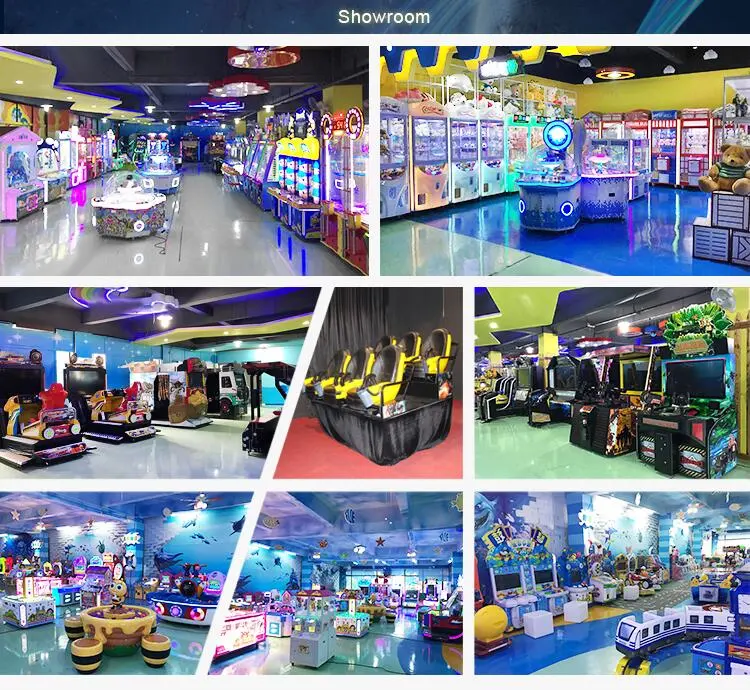 Our Advantages

1. Diversified Products Line To Meet Different Requirement
2. We Have Our Own Brand Epark
3. Over 10 Years' Manufacturing Experience In Electronical Product And Game Machine Equipment Industry
4. It Is One Of The Largest 9d Vr And Manufacturers In Guangzhou With Factory Occupancy Area About 2000 Square Meters
5. Professional Team Offers Technical Support To Customer
6. Our Technicians Go To Different Countries To Help Customers Solve Problems Of Their Game City And Amusement Park
7. Feedback The Marketing Information To The Customers
8. Well Decorated Showroom Is Waiting For Your Experience

EPARK Believe

1. Great Quality
Quality Is The Soul Of EPARK, We Believe That The Only Good Quality Can Be Based On The Future .
EPAKR Constantly To Meet International Quality Requirements , In Order To Meet The Requirements Of Customers .
2. Great Service
We Remind All Employees To Focus On Services , Each Customer As Its Own Family .
3. Great Reputation
Only Keep Good Business Reputation To Establish a Long - Term Cooperation Relationship ,
EPARK Insisted On From The Start Bit By Bit , Let EPARK Brand Known The World .
Our Main Products

1. Car Racing Game Machine: Like Outrun , Initial D5 ,Initial D6 , Hummer , Need For Speed , 3D Sonic and so on .
2. Moto Racing Game Machine: Like GP Moto4 , TT Moto, Attack Moto, Harley Motor , FF Motor ,Lucky Motor , Kids Motor and so on .
3. Shooting Game Machine : Like Aliens , Let's go jungle , Time Crisis , Rambo , Ghost Squad , Razing Storm , Pirate Adventure , House of Dead 4 and so on
4. Amusement Game Machine : Kindly check our website for more details .
5. Redemption / Lottery / Ticket Game Machine : We have a lot of items for options , pls kindly check our website .
6. Fighting Game Machine with Tekken , Street Fighter , King of Fighter main board .
7. Toy / Crane / Gift / Vending Game Machine: Kindly check our website for more items list .
8. Kiddie Ride & Walking Animal
9. Music & Dancing Game Machine
10. Sport Game Machine like air hockey, boxing game machine , football game machine and so on .
11. Pinball game machine
12. Game Accessories , like buttons , joystick , mainboard , power box and so on .
13. 9D VR , HTC VIVE VR Equipment
14. 5D / 6D / 7D cinema
15. Playground for kids