Class C Removable Woltman Prepaid Electronic Valve Controlled Water Meter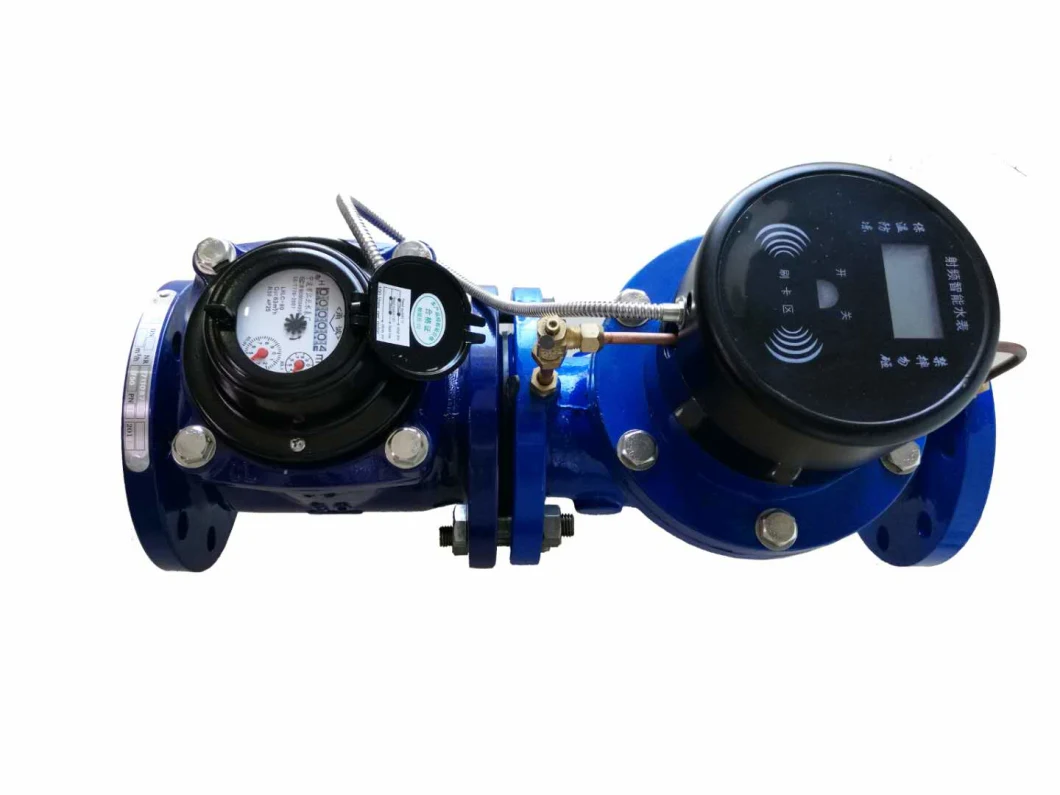 LXLCK is a woltman intelligent water meter with a separate electronic valve in sizes from 40mm to 400mm for industrial application. It measures the volume of cold (hot) water or drinking water passing through the pipelines.
Features
* One meter, one card.
* removable woltman water meter with valve control.
*
A separate electronic valve.
* Prepayment Function: user pay first. No payment, no water.
*
Synchronization Display Function: LCD display and mechanical display at the same time.
* Alarm function: The valve will close automatically and LCD display alarm information when the balance is less than the set certain volume.
* Battery Shortage

:

When the battery is not sufficient, the valve shall close automatically
* Anti-magnetic Attack Function: Water meter has automatic protection function. It will shut off the valve when magnetic field approaches.
Standard Compliance
Technical data conforms to ISO 4064
Class B, R50, R63, R80, R100 standard for horizontal installation.
Main Technical Parameters
Working voltage of sensors: DC2.8 to 3.6V (hall), DC1-10V(reed switch)
Power supply
:
3.6V Lithium Battery
Average Current: ≤15uA
Static Working Current: ≤7uA
Status Protection: Self data memory, and save data for more than 10 years.
Installation Mode: Horizontal Installation
Number of sensors: 2 (double pulse)
Working water temperature:
0.1
ºC
to 30
ºC
Pressure loss:
≤0.1Mpa
Maximum working pressure: 1Mpa
Valve's switching time: 7s
No-load working current: 25~35 mA
Block running current: ≥ 150Ma
Motor life: valve switching times is more than 5,000 times.
Working Conditions
Water temperature: ≤50ºC for cold water meter
Water temperature: ≤90ºC for hot water meter
Water pressure: ≤1MPa (10 bar)
Working humidity:

<

85%
Installation requirements
*The meter should be installed in horizontal position with the direction of the flow as indicated by the arrow cast in the meter body with the register face upwards.
*Pipeline must be flushed before installation.
*The meter should be constantly full of water during operation.
Maximum Permissible Error
In the lower zone from Qmin (Q1) inclusive up to but excluding Qt (Q2) is ±5%.
In the upper zone from Qt(Q2) inclusive up to and including Qmax(Q4) is ±2% (cold water meter
)
.
In the upper zone from Qt (Q2) inclusive up to and including Qmax (Q4) is
±
3
%
(hot water meter).
MAIN TECHNICAL DATA According to ISO4064 :2003 (Old Standard)
Meter Size

Measuring

Max Flow

Nominal Flow

Transitional Flow

Min Flow

Min Reading

Max Reading

mm

class

m³/h

m³

50

B

30

15

3

0.45

0.0002

999999

65

B

50

25

5

0.75

0.0002

999999

80

B

80

40

8

1.2

0.002

999999

100

B

120

60

12

1.8

0.002

999999

125

B

200

100

20

3

0.002

999999

150

B

300

150

30

4.5

0.002

999999

200

B

500

250

50

7.5

0.002

999999

250

B

800

400

80

12

0.002

999999

300

B

1200

600

120

18

0.02

9999999

350

B

1600

800

160

24

0.02

999999999

400

B

2000

1000

200

30

0.02

999999999
MAIN TECHNICAL DATA According to ISO4064:2014
(
New Standard
)
Meter Size

Measuring

Q4

Q3

Q2

Q1

Min Reading

Max Reading

mm

R

m³/h

m³

50

80

31.25

25

0.5

0.3125

0.001

999999

65

80

50

40

0.8

0.5

0.001

999999

80

80

78.7

63

1.26

0.7875

0.001

999999

100

80

125

100

2

1.25

0.001

999999

125

80

200

160

3.2

2

0.001

999999

150

80

312.5

250

5

3.125

0.01

9999999

200

80

500

400

8

5

0.01

9999999

250

80

787

630

12.6

7.875

0.1

99999999

300

80

1250

1000

20

12.5

0.1

99999999

350

80

2000

1600

32

20

0.1

99999999

400

80

3125

1600

32

20

0.1

99999999
D
imensions and Weight
Meter size

Length L

Width B

Height H

Connecting thread

Weight

mm

mm

D

Bolt circle Dia D1

Conncting bolt

KG

50

430

170

280

165

125

17.5

4×M16

65

430

190

300

185

145

17.5

8×M16

80

530

200

340

195

160

17.5

8×M16

100

587

235

360

215

180

17.5

8×M16

125

610

260

400

250

210

17.5

8×M16

150

710

285

470

280

240

22

8×M20

200

795

340

510

335

295

22

8×M20

250

1025

493

730

395

350

22

12×M20

300

1145

516

730

445

400

22

12×M20

400

1330

631

830

565

515

26

16×M24